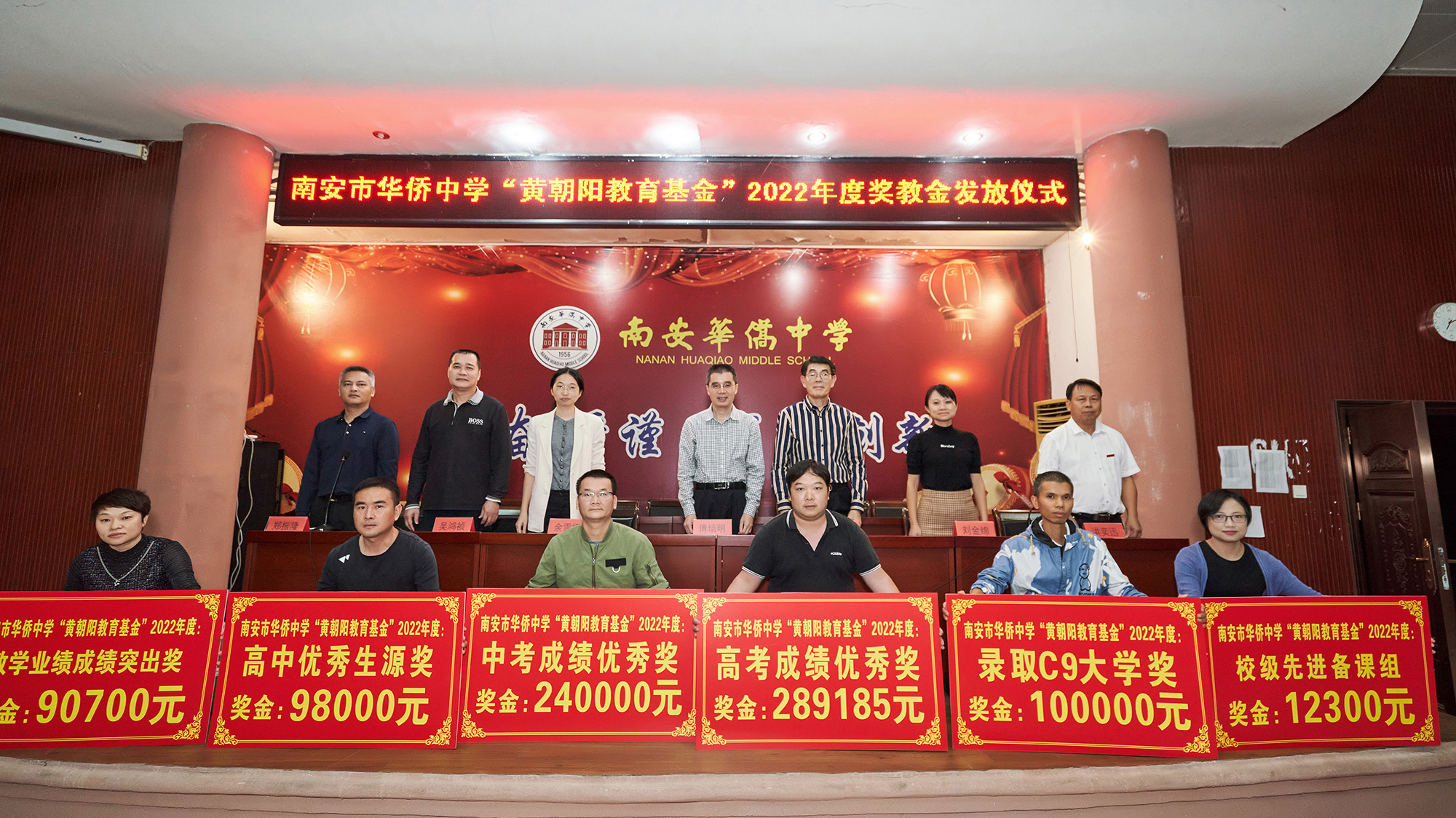 On November 3, under the joint witness of Fujian Nanan Huaqiao Middle School and China SCE Group, the "Huang Chaoyang Teacher Incentives Fund" 2021-2022 school year teaching awards were issued as scheduled to commend and reward the outstanding teachers in the junior and senior departments of the school for their outstanding achievements in this school year. This is the second time the awards have been released. Also attending the meeting were the officials from Nanan Education Bureau of Fujian Province and Fengzhou Town Government of Nanan city, members of the School Council and Alumni Association, and Fu Peiming, Assistant General Manager of the CEO Office of China SCE Group.
The "Huang Chaoyang Education Fund" specifically set up a number of high-value awards, such as the Outstanding Award for the College Entrance Examination, the Outstanding Award for the Senior High School Entrance Examination, and the Outstanding Award for Teaching Performance. Focusing on the difficulties of teaching, the fund closely follows the education policy of the country and combines opinions from the school and teachers, while setting comprehensive evaluation indicators and hoping to encourage and help excellent teachers and teacher training more effectively.
The exciting news is that since China SCE Group established a 20 million education fund for Nanan Huaqiao School in 2021, the teaching atmosphere of "comparing, learning, matching and surpassing" has been further created and stimulated in the school. Over the past two years, good news has been reported frequently. In particular, the results of the high school and college entrance examinations have made great progress, and new highs in recent years were recorded in both. In this year's college entrance examination, not only were graduates listed in the "C9 League", one of the first top university league in China, with nearly 20 people admitted to Project 985 and Project 211, but the comprehensive ratio ranking in the local high school entrance examination was much higher than last year with a climb of more than 20 places up.